Outreach Opportunities
---
GOD'S PANTRY FOOD COLLECTION
The Local Outreach Ministry Team calls on everyone to participate in an ongoing canned goods donation effort to help God's Pantry.  Please bring a canned good or staple item with you each Sunday and drop it in one of the large blue barrels.
God's Pantry has been collecting and distributing donated food in our area for over 50 years. This organization works to address the needs of families and individuals in tough times. Our individually- given cans can mean a lot when it comes to re-stocking the shelves at God's Pantry.
As we come to church every week to feed our spirits and connect with our church family at God's table, we hope you'll help other families ensure they have enough on their tables. Please join in this effort and make your canned donation a regular practice each week as a way of sharing God's love.
---
ROOM IN THE INN
If you are new to Crestwood, you may want to learn more about Room in the Inn (RITI).  This program provides a shelter and hospitality program to homeless men in the community.  Crestwood, one of several participating congregations, offers its facilities on the second and fourth Friday evenings from December through March.
RITI Volunteer Opportunities 
Volunteers make RITI happen at Crestwood!   Tony Shartle has faithfully and tirelessly coordinated the program since its inception at Crestwood and he welcomes anyone who would like to help.  Volunteers provide:
–Set up – Prepare beds and linens on Fridays at 5 p.m.
–Transportation (Using the church van, drivers pick up guests on Friday evening downtown at 6:30 p.m. and drop them off the following morning at 7 a.m.)
–Dinner on Friday (prepare a meal for up to 12 guests by 6:45 p.m.)
–Breakfast on Saturday (preparation begins at 5:30 a.m.)
–Sack Lunches (simple preparation, no drinks)  Deliver to church anytime Friday.
–Laundry (men's laundry on Friday evening, linens on Saturday)
–Clean-up on Saturday at 7 a.m.
---
HABITAT
Disciples for Habitat Needs YOU to help build our next house!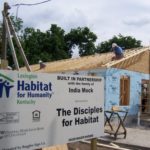 Disciples for Habitat is made up of our local Disciples for Christ Churches.  As in past years, Crestwood's fundraising goal represents one-third of the total cost of our Habitat house ($20,667 of $62,000).
We hope you will consider making a donation to support this ministry.  Make your check payable to Crestwood Christian Church with Habitat in the memo line.
Thank you for any help that you can give.  Watch the Crest for information regarding dates for this year's build and how you can participate.  We will also be asking for contributions of food for the workers.
We can't do this without you!
---
REFUGEES
Since 1991, Crestwood has been assisting Kentucky Refugee Ministries (KRM) with refugee resettlement.  KRM has offices in Lexington and Louisville. Refugees have fled their homes due to fear for their lives because of political, religious or ethnic violence.
Crestwood has welcomed families from Azerbaijan and Armenia, Croatia, Kosovo, Russia, Iraq and, most recently, Bhutan.  Resettlement involves providing furnishings and setting up an apartment for a new home, greeting them at the airport, providing transportation for a myriad of appointments in the first couple of months, assisting with finding employment, assisting with tutoring English, sharing experiences and supporting the family as they adjust to a new way of life in Lexington.
By coming along side a family beginning a new life in Lexington,KY, we are responding to the call …to provide the gift of hospitality to the stranger, to the least of these.  If you are interested in learning more about this ministry,  please call the church office.
---
DETENTION CENTER
COMMUNION MINISTRY
 TO THE FAYETTE COUNTY DETENTION CENTER
-A Ministry of Crestwood Christian Church
       In January of 2007, Crestwood's Shalom Committee for Peace and Social Justice began a bi-monthly ministry to the Fayette County Detention Center.  The purpose of the ministry is to offer an opportunity of communion to those who are incarcerated, not to evangelize or to convert.  The worship service and communion is offered to 12 of the units at least once a month.
We go to the Detention Center to share God's message of grace through the act of communion.  Without fail, I always feel that the experience is as spiritually rewarding to those of us going to provide this service as it is to those whom we serve.  One truly feels the Sprit of God in that shared experience and is aware of the transcendence of God's blessing over place and time.       –Lucy Wells
Interested participants must undergo a background check and attend security classes at the Detention Center in order to be a part of this ministry.  Contact the church using the "Contact Us" link above for more information.